Bangkok, the capital city of Thailand, is a vibrant metropolis known for its bustling street markets, ornate temples, and delicious street food. With a rich cultural heritage, it seamlessly blends the old and the new, offering visitors a taste of traditional Thai architecture and customs alongside modern skyscrapers and a dynamic nightlife. From the historic Grand Palace and Wat Pho temple to the bustling markets of Chatuchak and the vibrant nightlife of Khao San Road, Bangkok offers a diverse and captivating experience for travelers from around the world.
Explore Thailand with diverse tour packages, encompassing pristine beaches, cultural gems, and vibrant cities
for an unforgettable travel experience.
2 Nights & 3 Days

| Customizable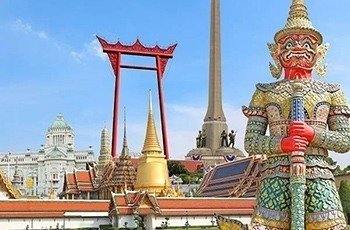 3 Nights & 4 Days

| Customizable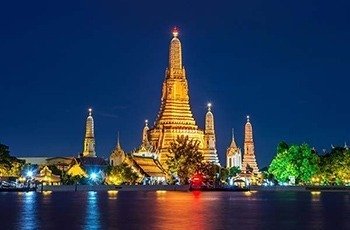 3 Nights & 4 Days

| Customizable
Customize Your Thailand Tour
Tailor your Thailand tour to blend vibrant urban adventures, cultural explorations, and tropical escapes for a personalized and unforgettable journey.
Which are the best Thailand tour packages?
Explore the best Thailand tour packages, offering a perfect blend of cultural immersion, scenic beauty, and vibrant experiences.
Which are the best water sports to do on a Thailand tour?
Indulge in the best water sports on your Thailand tour, including snorkeling in crystal-clear waters, scuba diving amidst vibrant marine life, and kayaking through picturesque coastlines.
What are the romantic things to do in Thailand?
Embark on romantic escapades in Thailand with activities like sunset beach strolls, private long-tail boat rides, and candlelit dinners on serene islands.
Which are the famous temples to visit in Thailand?
Discover the spiritual allure of Thailand by visiting iconic temples like Wat Pho with the reclining Buddha, the grandeur of Wat Arun, and the cultural marvel that is Wat Phra Kaew.
Which are the adventure activities in Thailand?
Embark on thrilling adventures in Thailand with activities such as zip-lining through rainforests, rock climbing in Railay, and exploring underwater caves while diving in the Andaman Sea.
What are the best Thailand tour packages that we can book with Travel gypsy?
Explore the best Thailand tour packages on Travel gypsy, offering curated experiences like island hopping in Phuket, cultural immersions in Chiang Mai, and adrenaline-pumping activities for an unforgettable journey.
Choose only the best travel agents for a seamless and extraordinary experience in planning and executing your Thailand tour.
Ensuring quality through meticulous attention to detail and unwavering commitment to excellence.
24*7 On-trip assistance by Local Travel Agents
Enjoy 24/7 on-trip assistance from local travel agents for a seamless and stress-free travel experience in Thailand.